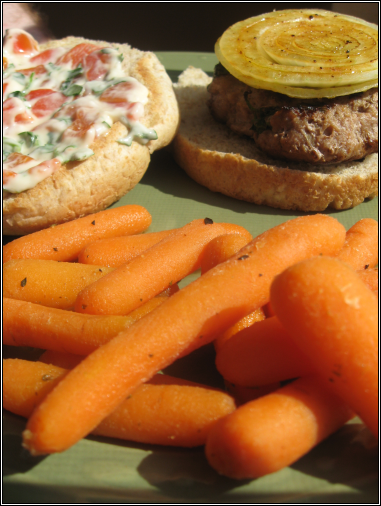 Oh my, this picture just makes my stomach growl because homemade turkey burgers are probably the best thing I discovered for the boy and

I's

dinners. I've always loved turkey burgers, but these were better than your average frozen patty. I mean

c'mon

they're thick and juicy and all these flavors packed inside just makes my mouth water. We used to just slap cheese and onions on em' but then I found this mayo recipe and whoa momma, my mouth had a party at first bite :) People go "

ew

" when I say Turkey and Burger together, but please please try them!
Turkey Burgers with a Basil-Red Pepper Mayo
2 tablespoons light mayo (I use light miracle whip.)
2 tablespoons basil, fresh, chopped
2 tablespoons of soy sauce, low sodium
2 tablespoons of green onions, chopped
1 oz. red peppers, flame roasted (Come in little jars at your local super market, though I used the sweet roasted peppers :P)
4 whole wheat turkey buns
4 pieces of tomato, optional (Mine pictured doesn't, but the boy's did.)
4 slices of romaine lettuce (I didn't have any but though I'd throw it in there!)
In medium bowl combine ground turkey, green onions, and soy sauce. Divide and shape into 4 patties.
Chop roasted peppers. In small bowl combine peppers, mayo, and basil. Grill or broil burgers until desired

done-ness

. Spread mayo mix over top half of buns. Top burger with onion (try them grilled or broiled for more flavor!), tomato, and lettuce.