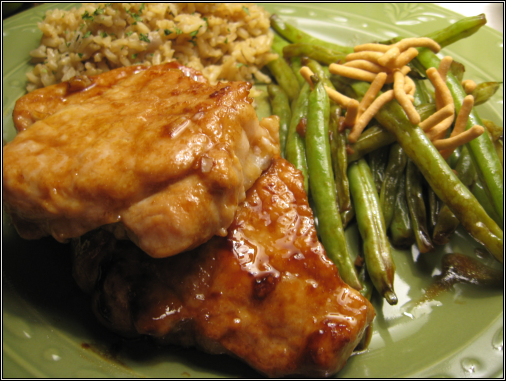 Now I'm the kind of person that if I had to choose one meat to live off of for the rest of my life it wouldn't be pork, it'd

definitely

be chicken.

B'gawk

!

Hehe

. This meal though, it sways me ever so slightly to the pork side.

Haha

, it's like going to the dark side, but tastier! It's a filling and comforting meal and it really is a belly

pleaser

. Nothing is more enjoyable than to listen to people's "

mm's

" as they chew their way through their plate of food. The contented sighs of full bellies....oh it's just fabulous! Try this, the whole meal is only 440 calories per serving!


Stir-Fried Ginger Pork

2 tablespoons of soy sauce, low sodium
2 garlic cloves
1 tablespoon of brown sugar, packed
1/2 teaspoon of ground ginger
1 tablespoon of olive oil
1lb. pork tenderloin, raw


Finely chop garlic. Cut pork into thin strips (about 1/2"). In medium bowl blend soy sauce, garlic, brown sugar, and ginger. In non-stick skillet heat olive oil over medium-high heat and brown pork. Add garlic mixture and cook for 7 minutes or until pork is thoroughly cooked.



Asian Green Beans

2 teaspoons olive oil
2 garlic cloves
1lb. whole fresh green beans
3 tablespoons Lawry's Marinade

Teriyaki

with Pineapple Juice
1/4 dry cup

chow mein

noodles


Finely chop garlic. In non-stick skillet heat olive oil over medium-high heat and cook garlic 30 seconds. Add green beans and marinade and cook 10 minutes or until beans are tender. To serve, top with

chow mein

noodles.



Classic Rice Pilaf

2 teaspoons of butter
3/4 cup brown rice, uncooked
1/3 cup white onion, chopped
1/8 teaspoon black pepper
1/8 teaspoon ground thyme
1 3/4 cups of chicken broth, low sodium
1 teaspoon of parsley, fresh, chopped


In 2-quart saucepan melt butter over medium high-heat and cook rice, onion, pepper, and thyme for 4 minutes or until rice is golden. Stir in broth and bring to a boil over high heat. Reduce heat to low and let simmer 40 minutes. Let stand for 5 minutes and then stir in parsley.