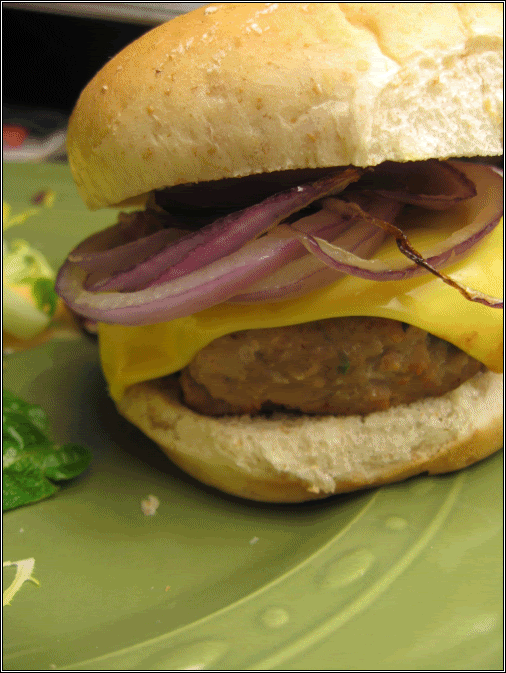 Nothing is better than homemade burgers, mm. My stomach is growling and I think these sound fantastic again for dinner. I get a lot of mixed feedback for turkey used in burgers. My opinion? What's wrong with it? It's delicious and it's healthier for you! :) This is a simpler version of what the boy and I normally eat. We have it

at least

once a week...or twice with leftovers :P



Tasty Turkey Burgers


1lb. ground turkey
3 tablespoons of green onions, chopped
2 tablespoons soy sauce, low sodium
1/2 teaspoon garlic powder w/ parsley (Lawry makes this, or just use garlic powder.)
1/4 teaspoon ground black pepper
1 red onion, medium sized. (I use only about half, but if you love em' pile em' on!)
2 teaspoons extra virgin olive oil
4 pieces of

American

cheese, low-fat.
4 whole wheat hamburger buns


Cut onion into slices. In large bowl combine turkey, soy sauce, garlic powder, and pepper; shape into 4 patties. Evenly brush onion with olive oil. Grill or broil burgers and onions until burgers are to desired done-

ness

and onions are tender. Top burgers with cheese and cook until cheese is melted. Top with onions and enjoy!