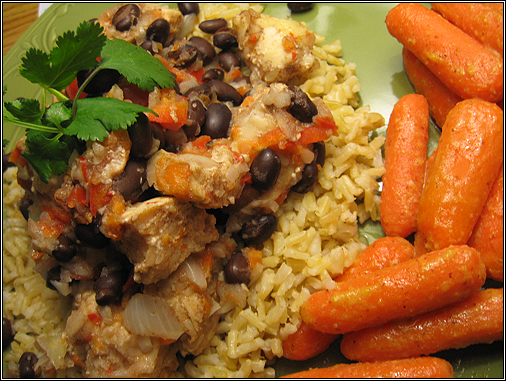 Now this just doesn't seem like diet food at all! This meal was so easy to do, I really love "pouch" meals where i can throw it all together and forget about it. Isn't that a quote from some

infomercial

? :P There's tons of flavor in this dish and the colors are vibrant and appetizing. What else? The entire meal, including the carrots is only 420 calories and you feel FULL. Most dieters don't know what "full" is,

hehe

. I hope you try it! It's not spicy for those who may be afraid of it. I think pepperoni on my pizza is too spicy

LOL

so this is a-OK for me. :) I even included the carrot recipe for you.
Mesquite Chicken and Veggie Pouches
1/4 cup Lawry's Marinade with Lime Juice
1lb. chicken breasts, boneless, skinless
1 can of black beans, drained and rinsed
1 tablespoon of cilantro, fresh
2 cups of rice, cooked (I use brown as it's better for you, but feel free to use whatever you'd like!)
Pre

-heat oven to 425°. Cut chicken into 1/2" cubes. Chop onion and pepper (I threw mine into the food processor for little bits, but you can keep them 1/4"in. to 1/2"in. if you so desire). In large bowl toss chicken with marinade, beans, red pepper, and onion. on four 12 x 18" of heavy-duty aluminum foil, evenly divide mixture. Wrap foil loosely around chicken and seal the edges with a double fold. On baking sheet, arrange pouches seam side up. Bake for 20 minutes or until chicken is thoroughly cooked. Serve over hot rice.
1 bag of baby carrots (approx. 1lb.)
1 1/2 teaspoons of

Dijon

mustard
2 teaspoons of syrup, maple
In medium saucepan, add carrots and enough water to cover them. Bring to a boil over high-heat. Reduce heat to medium-high and cook for 6 minutes or until crisp-tender; drain. In the same saucepan toss carrots with remaining ingredients.