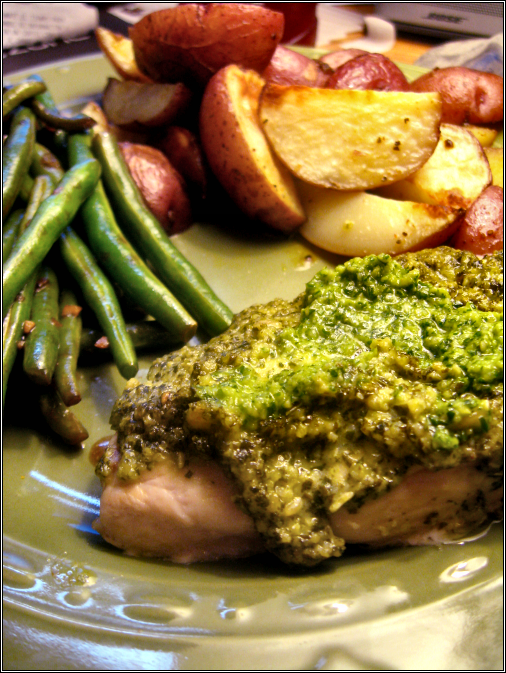 So the recipe is called "pesto RUBBED chicken," but there was so much pesto I basically just evened out the portions and piled it on top. My pesto is homemade too baby! It's really amazing stuff and although it's green it's excellent! I say this because I myself am not fond of green veggies much (I do force myself to eat them though). Try it if you haven't or come on over for dinner and I'll make it for you! *wink* ;)
Pesto Rubbed Chicken (Homemade Pesto Sauce)
for the chicken:
2 tablespoons of olive oil.
4 chicken breasts, boneless.
for the pesto sauce:
3 cloves of garlic (yes, the fresh stuff! no minced jar garlic!)
2 cups fresh basil
3 tablespoons of pinenuts
1/2 cup of extra virgin olive oil
1/2 cup of parmesan cheese, grated
It's easiest to make this in a food processer (
Wal-Mart
has a mini one for like $15) It's not the exact one I use, maybe they don't show the off-brand ones on their website but they do have the mini ones! Or you could use a blender if you want to save your cash for a night out on the town! :) Peel and chop your garlic. Place garlic, pinenuts, basil, and parmesan cheese into food processor. Place about 1/4 cup of your oil into the processor and let it do its job. After a couple of seconds you'll probably have to scrape down the sides and such, at this time go ahead and place the rest of your oil in and let it spin again for a few more seconds until completely blended. *NOTE: Sometimes I like to just use 1/4 cup of oil since sometimes 1/2 cup will seem to much. Just use your best judgement.
You can grill, broil, or bake the chicken at this point. I chose to broil my chicken so I used a baking sheet (you can use a broiling pan too) and placed the chicken breasts on, scooping even amounts of Pesto to cover the entire chicken. I have to say I didn't really keep tabs on how long it took to cook thoroughly, but broiling is the fastest method in my opinion. So I would say 8-10 minutes maximum if you choose to broil. Just keep an eye on it! :)
If you're in a rush to get dinner on the table Knorr brand makes a Pesto Sauce Mix that you can blend with olive oil for a quick sauce. You should be able to find it at any local super market.