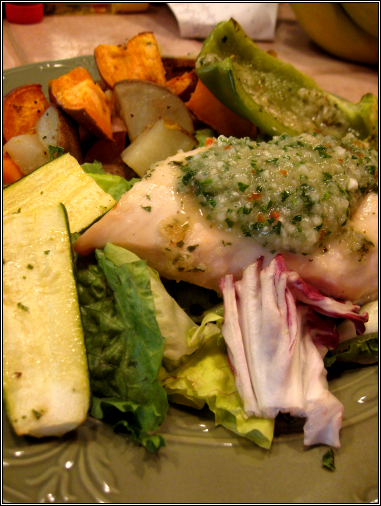 I have a confession to make, I am addicted to
Slim

Fast's

recipes
they offer for free through their site. There really is such a variety to choose from? Don't like chicken? Fine, try grilled halibut or

Caribbean

jerk steak. Even if you're not into dieting, it's a great site for dinner options and healthy options together as one :) This entire meal pictured (including the potatoes) is only 430 calories per serving, wow! I didn't include the potato recipe but can if enough people show interest in it?
Chimmichurri

Grilled Chicken and Vegetable Salad
1/2 cup of

Italian

dressing
1/4 cup parsley, fresh, chopped
4 chicken breasts, boneless
3 bell peppers, any color
1 bag of salad mix, (I used the Spring Mix as recommended by the recipe, but use what you wish!)
Cut peppers into quarters and zucchinis lengthwise.
To make

chimmichurri

dressing: in food processor or blender combine

Italian

dressing, onion, parsley, and garlic. Makes about 2/3 cup. Coat chicken and veggies with dressing and grill veggies and chicken until the chicken fully cooked and veggies are tender (I broiled mine since we don't have a grill...YET!)
Arrange lettuce on serving platter or individual plates and top with chicken and drizzle with remaining dressing and serve.